Hi ya'll!
L'occitane is a gorgeous little French brand of bath, body, and hair products that you may have seen at your local Sephora or in the middle as a stand alone store. This company offers recyclable packaging with thoughtful details such as braille on all of their labels.
I worked at Sephora once upon a time freshman year of college and had an education class on this brand. There was an endearing story about how the brand was created and the company's focus on sustainability.
Photo: all-the-voucher-codes.com
Now on the to the fun stuff lol you will probably see several reviews from this company because I adore several of their products and use them as gifts a lot for the holidays. This particular post is actually about a product that I just recently discovered at their store.
The company offers two different sachets. One is lavender scented and the other is Verbena. For those of you not familiar with sachets (they are kind of old school in my opinion), they are typically little bags filled with beans or some other filling that is strongly odored. You place these little bags in drawers in your dresser, cabinets, or what I have done is placed mine in my car underneath my seat thanks to a tip from the lovely sales associate helping me.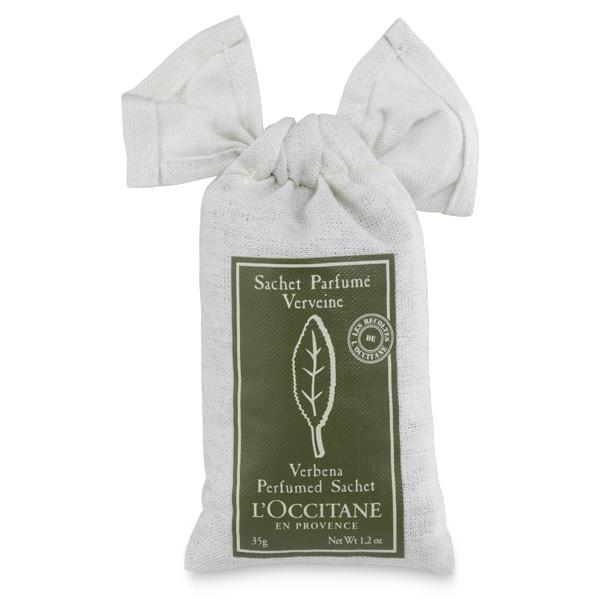 Photo: usa.loccitane.com
The lavender scented one was...well lavender. Pretty straight forward and if you like lavender, you will love the way this smells. The real focus on my review is the Verbena scented sachet. This smells heavenly! It reminds me of yellow Pez candy. I love driving and getting whiffs of it underneath my drivers seat plus the little bag is cute. I definitely plan on buying more of these things to place around my apartment, car and buy as presents. At $10 (purchase here), I thought the sachet was overpriced butttt the smells was so delicious I was won over.
All in all, keep these little sachets in mind for stocking stuffers and a treat for yourself. I don't know why sachets seem to have gone out of style ( I haven't heard any of my friends mention a sachet lol) because they're a great idea!
<3