Hi ladies,
Wouldn't it be nice, in some way, if there was no guess work involved in what to wear to work? Something so trivial in the grand scheme of things can be so stressful.
Let me try to eliminate some of that stress for you. Now, take this article with a big grain of salt. Work attire is something extremely personal (express who you are) but needs to be appropriate from field to field, office to non-office type jobs. My particular job is, what I would consider, "dress casual".
From my own personal experience now that I have been in the work field or "real world" for over a year now, I have discovered some key pieces that really get me through season to season looking and feeling professional. Check out my list below to see if there is an item you may not have thought about before!
1.) Blazer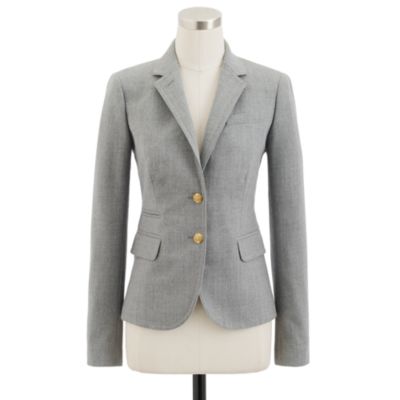 J.Crew Schoolboy blazer $198, buy here
This is my absolute, #1 key item. Invest in at least one really nice blazer. If you can, get more. The blazer automatically makes you look more professional and polished. It is easier to take someone in a blazer seriously if they are young as well. There are linen blazers for the warmer months and wool blazers for the cooler months. You can wear the most basic tank underneath or wear it on top of a more elaborate shirt. The blazer is a classic and can also create a more flattering silhouette around your waist. I can't tell you how many times a blazer has saved my outfit.
2.) Flats
Me Too "Kaden" flat, $69.95, purchase here
As much as I want to wear cute heels every day...it just isn't going to happen. You will probably learn quickly even a desk job can wear your feet a little if you're in sky high heels. They're are some really cute flats out there in a ton of different styles/colors. I adore my "Abby" flats (only in-store) from Banana Republic (I'll write a post on them soon!). I also really enjoy my loafers!
3.) Pencil Skirt
J.Crew Number 2 Pencil Skirt, purchase here
I love how feminine and simple the pencil skirt is. It also can mix it up a little in a very pants heavy wardrobe.
4.) Dress Pants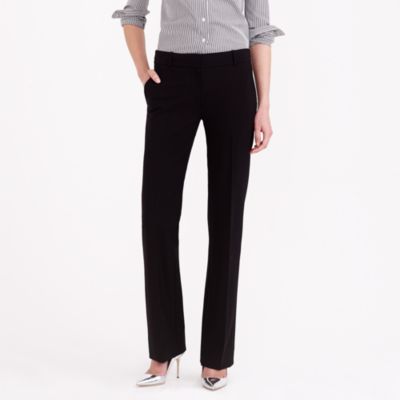 J.Crew 1035 pant, purchase here
Of course lol You will probably have tons of pants but I suggest, again, having one really nice pair. A light wool gabardine material is great! You can wear them multiple times a week and get away with it. Also, have them fitted for a very professional/polished look. I love love love J.Crew's dress pants. They are beautiful and great quality!
5.) Pumps
Photo: Cole Haan "Chelsea Pump", $298, available here
Very basic. Interviews, meetings, days where you just want to dress up. One nice quality pair of pumps is a very easy item to pair with any outfit and look taller/have better posture.
6.) Button Down Shirt
Banana Republic Tailored Non-Iron Sateen Shirt, $59.50, buy here
Even though this style may seem old fashioned, it has a huge presence in the professional world. You can wear it alone, tucked in/out, layered under a blazer/sweater etc. It always looks professional. Just make sure you always have it ironed. Also, get a soft material. The starchy ones drive me nuts!
7.) Watch
Michael Kors "Cameron" Round Bracelet Watch, $275, available here
Not only does having a watch look professional but it also serves a very basic/convenient purpose...it tells the time! lol It seems like nowadays everyone grabs their cell phone to check the time but in a business setting this is inappropriate. It seems like watches are having a come back though and Michael Kors/Marc Jacobs have some beautiful ones! I know wear my tortoiseshell Michael Kors almost every single day!
8.) Dress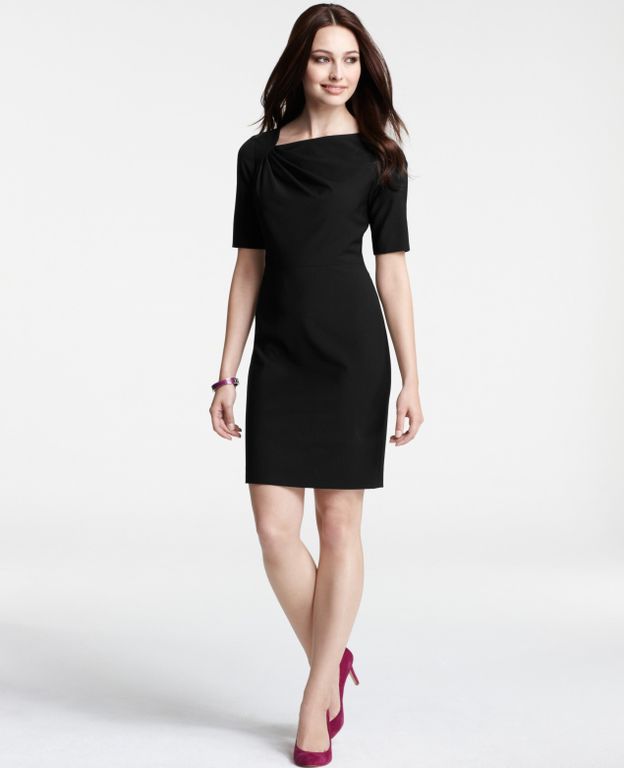 Ann Taylor Tropical Wool Sunray Sheath Dress, $168, purchase here
I have learned that dresses are a great grab on the way to work when you are running late. They're are an entire outfit! Doesn't take that much thought to put on a dress and roll out. However, if you do want to spend some thought, dresses are fun to accessorize. All sorts of necklaces, scarves, and jackets/sweaters can be added to a dress to create layered interest.
9.) Plain Tank

Club Monaco Leslie "Thin Strap" Tank, $19, on sale here!
These don't need to be fancy. Just basic tanks to layer under sweaters, shirts, and jackets are great to have on hand. I even like to wear a blazer as a shirt sometimes buttoned up with a tank underneath.
10.) Scarf
Nordstrom Cashmere Infinity Scarf, $78, purchase here
This is so not a necessary item but a really convenient one to have. A scarf can serve multiple purposes such as keeping you warm on the way to work or in a chilly A/C office and acting as jewelry. Even hiding a stain from lunch or a wrinkly blouse on a tardy morning. No one will know but you and your stylish little scarf!
For everything above, the big key is to buying nice, quality pieces in neutral colors such as nude, black, white, and grey. You want everything above to easily match one another and create an outfit without much thought. Once you have completed that, buying other colorful pieces for fun to mix it up will be easy!
Hope my advice helps you on your entrance into the workforce!
<3